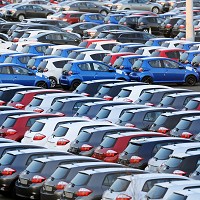 May's spring shutdown caused a fall of nearly 10% in UK car production, according to new figures.
The Society of Motor Manufacturers and Traders (SMMT) said a total of 116,655 new cars were produced last month - a drop of 9.8% compared with April.
The spring shutdown normally takes place in April to allow car manufacturers to upgrade their production lines, but this year it was delayed until May - so the drop was expected.
Overall car production this year is still 3.5% higher so far than in 2013, and SMMT chief executive Mike Hawes says production is likely to keep growing due to increased demand and investment.
IHS Automotive director Mark Fulthorpe predicted a 2.1% growth for the whole of 2014 compared with last year.
The motor industry has been a key factor in Britain's economic recovery, with an annual turnover of more than £60 billion.
Thousands of new jobs are currently being created in the sector, including 1,700 at Jaguar Land Rover's Solihull plant and 400 at Nissan's factory in Sunderland.
Copyright Press Association 2014