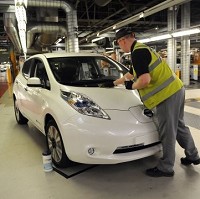 UK car production showed a slowdown in March as 126,909 cars were made, a drop of 6.3% on the same period last year.
Production of cars for 2013 so far showed a 2% fall from the total for the first quarter of last year, said the Society of Motor Manufacturers and Traders (SMMT) .
However, an expected rise in automotive manufacturing for the year overall should see a rise in buyers searching for the best car insurance and breakdown cover they can get.
Another sector showing a decrease in production in March was that of commercial vehicles (CVs), by 18.7% to 8,027, and engine production dropped by 6% to 220,032.
The drop in car production came as vehicle makers continued to "grapple" with poor European demand, said SMMT interim chief executive Mike Baunton.
But he said automotive manufacturing is set to increase overall this year and afterwards with the help of large investment from global automotive firms.
"Other factors such as extended facility holidays during the Easter period may have also impacted production volumes in March," said Mr Baunton.
Copyright Press Association 2013