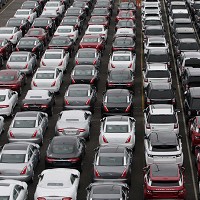 The UK's automotive industry got "back on track" in October thanks to a boost in car production, according to the Society of Motor Manufacturers and Traders (SMMT).
A total of 137,028 cars were built on British shores last month, up 6.5% on figure recorded in 2011, taking the year-so-far car production total to more than 1.22 million.
This is a 9.7% rise on the January-October figure from last year, and Paul Everitt, SMMT chief executive, claimed it was down to continued high-value investment in research and development.
But despite the boost, Mr Everitt warned of significant challenges ahead given the weak demand of the European market.
He said: "It is essential the Government continues to focus on boosting economic growth and enhancing UK competitiveness."
Commercial vehicle (CV) and engine production also rose in October, up 5% to 11,899 and 1.2% to 239,011 respectively.
However, both year-so-far CV production and year-so-far engine production are down compared to 2011. Total CV production has reached 94,214 this year, a decline of 6.1%, while engine production currently stands at 2.12 million, down 0.2%.
Copyright Press Association 2012