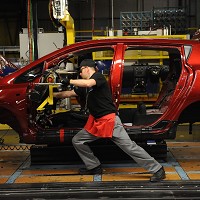 Car production in the UK has topped the one million mark for the year after a strong showing in September.
The number of cars built last month totalled 140,888, a 9.9% increase on September 2012, according to the Society of Motor Manufacturers and Traders (SMMT).
This pushed total production for 2013 up to 1,125,433, a 3.9% rise on the same nine-month period of last year.
September is typically a busy time for sales of cars and car insurance as the new registration plates come out.
SMMT chief executive Mike Hawes hailed the figures, saying: "Boosted by strong domestic demand, September's 9.9% rise in car manufacturing reinforces how the sector is one of the UK's biggest success stories of recent years
"This year alone, more than £2.6 billion has been committed across the UK automotive sector, from the supply chain to global car manufacturing brands."
However, the strong overall performance was not matched by production of commercial vehicles (CV), which plunged by more than a quarter (27.5%).
Just 6,963 CVs were manufactured in September, meaning CV production is 17.9% down on the January-September period of 2012, at 67,609 units.
Copyright Press Association 2013