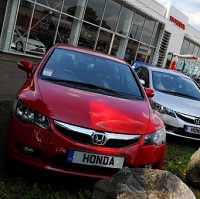 Motorists could stand to benefit from an anticipated fall in car prices this year, according to a leading British-based car information expert.
Research from CAP Automotive claimed that many franchise dealers around the UK are feeling the pressure to register more new car sales this year, which could spell good news for consumers.
Several dealers could be poised to slash new car prices in the next few weeks if demand continues to remain behind sales targets for the first quarter.
Manufacturers have urged franchise dealers to push sales even harder this year after the European market experienced a collapse in new car registrations last year.
CAP Automotive said now could be a great time to snap up a new car and tipped motorists to "emerge the winners in this year's challenging market".
Philip Nothard, CAP's retail and consumer specialist, said franchise dealers would almost inevitably have to use serious incentives to keep up with new car targets.
He said car supermarkets would have more new cars to stock and because they operate on a low margin, high volume basis this would mean even more competitive deals on offer.
Copyright Press Association 2013