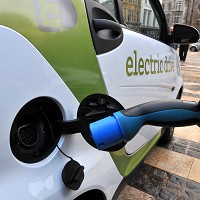 Q-Park has teamed up with manufacturer Chargemaster to install over a hundred new electric vehicle (EV) charging points across London.
The wall-mounted stations can be found in Q-Park car parks in 13 locations across the capital as part of Transport for London (TfL) and Mayor Boris Johnson's Source London network, making it less likely that EV drivers will have to call on breakdown cover .
It is good news for anyone interested in driving an electric car in London, with Source London members able to charge an EV for free (apart from normal parking charges) and Q-Park offering up to 50% off parking to people buying an EV Season Ticket, and Chief Executive of Chargemaster David Martell is delighted with the partnership.
"We are delighted that Q-Park chose Chargemaster to supply and install these units. It demonstrates the cost effectiveness of Chargemaster Plc units which allow an installed cost of often no more than 50% of other solutions," he said.
The charging stations are in Park Lane, Chinatown, Pimlico, Harley Street, Knightsbridge, St John's Wood, Trafalgar, Queensway, Oxford Street, Soho, Abingdon, Butlers Wharf and Burlington and charge at speeds of up to 7kW or twice the speed of standard three-pin plug charging.
Copyright © Press Association 2012