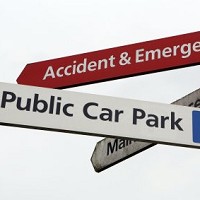 Incidents in car parks account for about a quarter of the total amount of road accidents in the UK, according to a new report.
A calculated 500,000 car park collisions occur every year, causing almost £750 million worth of damage - or an average of £1,428 per repair.
This is an increase of 4% on four years ago and represents 1,373 car park shunts each and every day.
The rise is being attributed to the amount of bigger car options now on the market. Drivers of the new 203cm-wide Golf, for example, are left with just 17.25 cm on either side of their vehicle in a typical car parking bay.
Wheels, bumpers and doors are commonly at risk in the largely low-speed shunts.
Only rear-end accidents are more common, says Accident Exchange replacement vehicle supplier's study.
The UK's roads played host to a calculated 2.2 million prangs in 2011.
Copyright Press Association 2014