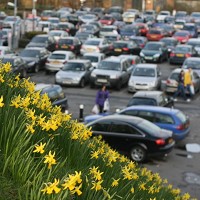 Malfunctioning number plate recognition cameras are resulting in innocent motorists being wrongly issued with parking fines, it's being reported in The Times.
The technology is meant to record details of vehicles' number plates when they enter and exit car parks.
But the newspaper report estimates that 5% of number plates aren't being read properly, something that can make it appear a vehicle has stayed in a car park for longer than it actually did.
The report cites the case of a driver who parked at a Morrison's supermarket in Aylesbury, Bucks on his way to work so he could withdraw cash before visiting the same car park later on the same day to do his shopping.
But cameras registered that his car had been parked there all day and he was given an £85 fine. The man, The Times says, refused to pay and had to take action in the county court to overturn the penalty.
In another case a pensioner who made two visits to an Asda in Preston was issued with a £70 penalty after a camera inaccurately read the C on his number plate as a G.
Private Parking Appeals, a group that fights penalties for drivers, says better checks need to be carried out before fines are issued.
A spokesman for ParkingEye, the UK's biggest operator of such cameras, says it always encourages people to appeal against parking charges if there are "extenuating circumstances".
The last 12 months has seen a trebling in the number of complaints related to private parking charges. And it is being predicted that by the end of the 2015/16 financial year almost 3.5 million penalties will have been issued by parking firms.
Copyright Press Association 2015. Motoring News articles do not reflect the RAC's views unless clearly stated.