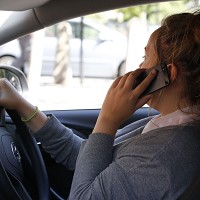 The Government has been accused of failing to get tough on drivers who use mobile phones illegally at the wheel.
Gloucestershire Chief Constable Suzette Davenport believes Prime Minister David Cameron and Roads Minster Robert Goodwill do not want to bring in stricter laws ahead of the upcoming general election, as it would not be a vote winner.
Speaking to the BBC Radio 5 live breakfast show she proposed heavier punishments, like disqualifications from driving, if someone is caught twice using a mobile phone within a period of time.
People caught holdi ng and using a mobile phone while driving currently face a punishment of three penalty points on their licence and a fine of £100. There is also the prospect of higher car insurance premiums in the future.
Mr Goodwill strongly denied Ms Davenport's claim. He told the show he has had no representations from any of his colleagues saying not to do something because of the election in May.
The MP also said the Government is considering increasing the penalty for using a phone while driving from three penalty points to six.
Copyright Press Association 2015