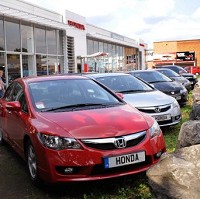 The car market has turned a corner, according to a survey of vehicle ownership.
Some 72% of families now own at least one car, according to data from the BCA Used Car Market Report.
The study showed there has been a 1% increase in the number of two-car families year-on-year, with a massive leap in the number of families in the north owning two vehicles, from 16% in 2012 to 29% this year.
Meanwhile, 14% of the 4,000 motorists polled said that they were likely to buy a car next year, compared with just 11% in 2012.
Tim Naylor, Editor of the BCA Used Car Market Report, said that car ownership is a key indicator of economic confidence.
He said: "Car ownership has remained static with 72% of families owning at least one car. There has been a decline, however, from 2010, when 77% of households owned at least one car."
Mr Naylor said initiatives to get people buying cars again may have worked.
He said: "In particular, low and 0% interest offers could be creating fresh demand for new cars, with 40% of motorists who responded to the BCA research saying that they were considering buying new rather than used for their next car.
"This is good news for the market as a whole as new cars create used car stock in future."
Copyright Press Association 2013