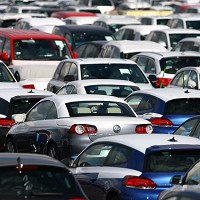 Could we be seeing the end of the current decline in the car market? New figures certainly suggest so - with car production falling at its smallest rate for a year.
Figures from the Society of Motor Manufacturers and Traders (SMMT) stated there were 119,616 cars made in the UK in October 2009, which is a 16.1% dip on the September 2008 figure.
These statistics coupled with a 31.5% drop in August 2009 shows how the Government's "cash for bangers" car scrappage scheme is certainly having a positive effect on the motor industry.
Car production for the year so far - at nearly 695,000 units - is down 41.2% compared with the January-September 2008 period.
SMMT chief executive Paul Everitt said: "The rate of decline in new car production slowed to its lowest level in a year with the volume of vehicles being produced for the UK market comparatively high.
"Demand is clearly being underpinned by the scrappage incentive scheme and the extension to the scheme will ensure that demand continues into 2010."
The news on commercial vehicle (CV) production was less good, with the number of CVs made last month dipping 53% compared with September 2008. CV production for the first nine months of this year is now down 61.6%.
Copyright © Press Association 2009