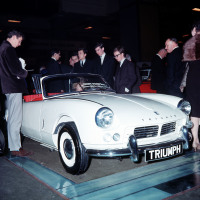 Building a 1950s-style race car has proven to be some of the best medicine for a sculptor who is dying of cancer.
Neil Buxton, 66, was diagnosed the day before Christmas in 2012, with doctors finding a tumour compressing his a spinal cord.
The former art teacher was told he may only have three years to live, so he decided to set himself the task of building a classic-style motor.
Medical experts and Mr Buxton believe the project has helped him go on living longer.
The Dulnain Bridge, Cairngorms resident used a chassis from a classic Triumph Spitfire to start him off.
The prostate cancer sufferer's hard work was rewarded last month after h is "Scot Special" car passed its initial MOT with flying colours.
Mr Buxton drew on all his old tools and skills which he has previously used to build distinctive metalwork sculptures.
He admits that he was not up to starting the car until 11 months after his diagnosis. Mr Buxton was struggling to walk as he took a while to accept his cancer.
The 1950s-style machine was finished with the use of some discarded washing machines for the interior.
Copyright Press Association 2016. Motoring News articles do not reflect the RAC's views unless clearly stated.