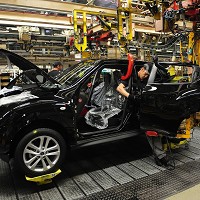 Major investment in UK car plants is expected to lead to manufacturing records being broken within the next three years.
Billions of pounds are being pumped into factories across the UK in a bid to increase production after the industry came through a period of declining demand following the credit crunch.
A number of new models are to be made in the UK, helping to lead to the creation of thousands of jobs.
Industry experts predict that in 2015 more than two million vehicles could be built, breaking the record of 1.92 million units dating back 40 years.
Paul Everitt, the chief executive of the Society of Motor Manufacturers and Traders, said that the UK automotive industry "is leading economic recovery with increased manufacturing output, growing export volumes and new jobs being created on the back of major international investment in the sector."
He went on: "Our engineering expertise, workforce flexibility and renowned motoring heritage, combined with top level collaboration between industry and Government, makes the UK an important location for the global automotive industry."
Copyright Press Association 2012