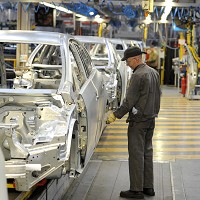 Car making factories across Britain enjoyed a production boost of more than 40% last month in contrast to May 2011, new data reveals.
The overall figure is also the highest seen in the month of May for eight years, according to the Society of Motor Manufacturers and Traders (SMMT). So far in 2012, the number of vehicles produced has jumped by 17.3%.
Paul Everitt, chief executive of the SMMT, said: "Car manufacturing in May hit the highest level of output since 2004 posting 42.2% growth, a sizeable recovery against volumes hampered by last year's Japanese tsunami.
"This boost, coupled with robust year-to-year results, demonstrates the strength of the UK automotive manufacturing industry and shows why it continues to attract high levels of international investment."
The number of engines made also rose by 13.4% in May, bringing the overall amount to more than one million for 2012 so far.
Consumers seeking to buy a new car will be spoilt for choice from the increased output of new vehicles, but even though it is unlikely to fall apart when they drive it off the forecourt,breakdown cover is still advised for added peace of mind.
Copyright Press Association 2012