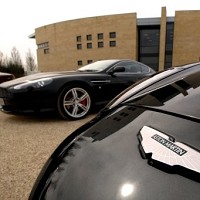 Aston Martin is poised to celebrate its centenary in less than a fortnight, with another iconic British institution set to follow suit by the end of the first quarter.
Warwickshire-based Aston Martin will be cracking open the champagne after reaching the motoring milestone on 15 January, which will spark the beginning of celebratory events throughout 2013.
Similar celebrations will also be staged by Mini and its parent company BMW on 28 March as they mark 100 years since the very first Bullnose Morris Minor rolled off the production line at Cowley.
The Oxford plant once boasted a workforce of around 26,000 during the 1950s and 1960s as they oversaw the production of cars such as the Austin Healey, the Rover and the original Mini.
BMW bought the Cowley site to make it the new home of the Mini in 2000, where it has produced more the two million new Mini's in little over a decade.
Bosses at the Mini plant are keen to hear from former employees to share memorable stories and photos displaying Cowley's past glories, while Aston Martin will be staging a range of events from its Gaydon plant in the Midlands.
Motorists who own either of the iconic brands are advised to invest in suitable car insurance policies to protect their investments.
Copyright Press Association 2013