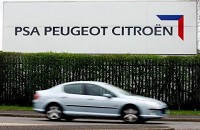 The European car market is not expected to recover before the end of next year says PSA Peugeot Citroen, which posted a 962 million euro (£835 million) net loss in the first half of this year as the global economic crisis ravaged car sales.
The loss compares with a 733 million euro (£633 million) profit a year earlier.
The Peugeot 207 and Citroen's C4 Picasso makers expect to remain loss-making this year, after already losing 343 million euros (£296 million) in 2008. In a desperate bid to face off the worst crisis the car industry has faced in decades, the firm shed jobs and replaced its chief executive in March.
Chief executive Philippe Varin, who took over from Christian Streiff, said he faced three main challenges: make the company's non-European businesses profitable, better leverage the Peugeot and Citroen brands, and improve operational efficiency in Europe.
He said: "We need to be a global player by expanding in Latin America and Asia, especially China, and making the management less Euro-centric."
The company plans to launch an electric car in the fourth quarter of 2010, and a diesel hybrid based on the premium models Peugeot 308 and Citroen DS5 in 2011.
Copyright © Press Association 2009