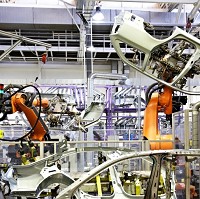 This August saw a dip in the number of new cars produced compared to last year, but sector production is still up for the year to date.
The automotive industry saw 22.1 per cent fewer cars made this August than in the same month in 2013, according to the Society of Motor Manufacturers and Traders (SMMT).
The total number of cars made in the traditionally slow month of August was 71,065 this year, although this is not expected to significantly slow down an already impressive year so far.
SMMT chief executive Mike Hawes said: "The UK automotive sector is in the midst of a renaissance.
"Global demand for quality UK-built products is at an unprecedented level, with significant investments into UK production facilities from government and industry currently being realised."
The figures back up Mr Hawes' claims, with 995,000 cars produced in the first eight months of this year. Overall manufacturing is up one per cent on last year.
This continues the recent positive trend in British automotive manufacturing.
Copyright Press Association 2014