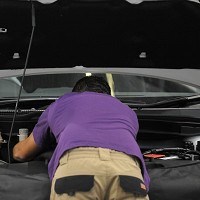 September is the busiest month of the year for MOT tests and drivers are being urged to make checks and simple changes to avoid a failure.
The Vehicle Operator Services Agency (VOSA) says the number of MOT tests carried out by dealers and garages ramps up every September and March because of registration plate changes.
Many MOTs are failed because of problems with car lights, but owners can resolve these ahead of their test date by checking their main beam and dipped headlights, side lights, fog lights and reversing lights and replacing bulbs if required.
Motorists should also be aware of changes to the tests that came into operation in March.
They now require tighter checks on electronic warning lights, engine mountings and speedometers.
Any problems with engine mountings and speedometers need expert attention, but VOSA advises drivers to be wary of warning lights that stay on, as these can indicate engine problems and possible breakdowns .
If this happens motorists should take their vehicle to a dealer or independent garage to prevent it failing the test.
Copyright Press Association 2013