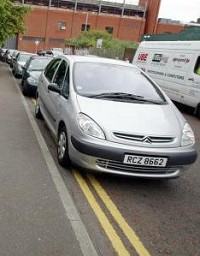 A council has issued an apology to a woman who was asked to pay £800 after she found that her car had been replaced by double yellow lines.
Graphic designer Ruth Ducker had returned to the spot where she legally parked her Volkswagen Golf, only to find it was missing and a freshly painted set of double yellow lines in its place.
Mrs Ducker eventually found out that her car had been lifted so the lines could be painted and then put back in its place. A separate set of parking enforcers then had her car towed away for being illegally parked. Mrs Ducker, 44, spent three weeks trying to find the truth behind her car's disappearance.
Lambeth council informed Mrs Ducker she was liable for £800 fines for 'parking' her car in a restricted section of the road. Two months later, with the help of Kate Hoey, her local MP, Lambeth council agreed to withdraw its demand for money.
"This was an unacceptable case and when the council became aware of it we acted to cancel all the charges. We are very sorry for the distress this has caused Mrs Ducker and have offered her financial compensation," said a council spokesman.
Copyright © Press Association 2009