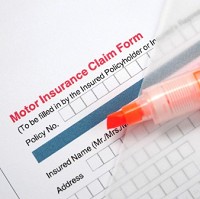 Police have raided the homes of people they suspect of selling fake car insurance policies.
Officers from the City of London Police insurance fraud enforcement department said 27 people have been arrested in different regions of England, with two of them detained over other charges.
Twenty-five people were charged with offences relating to false representation.
Warrants were used by police in Leicestershire, London, Manchester, Thames Valley and the West Midlands.
The so-called 'ghost brokers' tend to target younger drivers for fake car insurance cover , offering cheap prices.
Those who fall for the scam find themselves driving a vehicle without valid insurance which police can confiscate, and run the risk of prosecution and heavy fines.
Detective Chief Inspector Wood said: "This day of action reveals ghost broking to be a UK-wide problem which is being met by a national law enforcement response, led by IFED (insurance fraud enforcement department).
"The consequences for innocent motorists who fall victims to ghost brokers can be dire, so it is absolutely vital that drivers shopping for car insurance online, or through other means, question what they are being offered to ensure they get a real deal."
Copyright © Press Association 2013