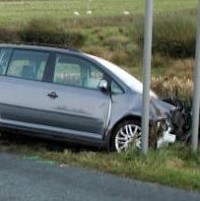 Households are paying an average of £44 in higher car-insurance premiums to cover soaring levels of fraud, according to the Association of British Insurers.
It reports that suspect claims totalled £730 million last year, 30% more than in 2007, while an estimated £5.2 billion of fraud goes undetected, up 24%.
And as the industry gets better at detecting fraudulent accident and theft claims, people are resorting to lying about their circumstances to save on their premiums.
This includes withholding information about motoring convictions, using the wrong address and listing a parent as the main driver.
Meanwhile, dodgy home-insurance claims involve people deliberately damaging furnishings or electrical goods, with a 35% increase in claims involving high-value watches, laptops and LCD televisions.
Motor insurance had the highest level of fraudulent claims by value, particularly staged accidents, while household policies saw the highest level of detected fraud by volume.
Copyright © Press Association 2009