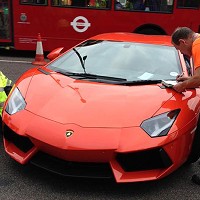 A police operation targeting motorists who drive without car insurance has netted a luxury Lamborghini.
The orange Lamborghini Aventador, which has a top speed of 217mph and can accelerate from 0-62mph in just 2.9 seconds, was one of scores of vehicles seized on a single day as part of Operation Cubo.
The supercar was stopped in Newham, east London, because it had no front number plate.
Police checks found the driver wasn't the registered owner and the luxury car was seized when officers discovered the driver's car insurance policy didn't cover him to use it.
Since it was launched 12 months ago Operation Cubo, run by the Metropolitan Police, has resulted in 11,576 vehicles being seized during 22 one-day initiatives.
The latest saw 180 uninsured and unroadworthy vehicles taken off the roads with 37 arrests made for everything from driving without insurance, drink driving and other motoring offences to robbery.
Chief superintendent Sultan Taylor, from the Met's Safer Transport Command, said the aim of the operation was to help promote public safety by keeping "uninsured and dangerous" drivers off the capital's roads.
Copyright Press Association 2013