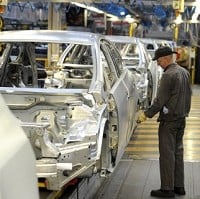 Britain's car industry could continue its resurgence for another five years, according to a senior partner at PricewaterhouseCooper (PwC).
Phil Harrold, a partner at PwC's Automotive practice, said the UK's recent investment in car production should "secure the renaissance" until at least 2018.
Harrold said: "I would expect to see an enhanced skills base and workforce [in the next five years] which together with our established R&D capabilities and supply chain strength, should ensure our success continues."
PwC anticipates global production figures of around 83.19 million for next year, representing an increase of 4.18 million from 79.1 million this year.
The latest statistics from the Society of Motor Manufacturers and Traders (SMMT) seems to reinforce that projection, with a 12.1% (151,250) rise in new car registrations in the UK last month.
New car registrations in the UK have grown by 5% over the year-to-date, with 1.7 million cars sold - up by almost 84,000 on the same time last year.
"British engineering and car manufacturing does have a bright future," added Harrold. "With investments by GM, BMW and Nissan in their UK production plants, and now Toyota, this shows the world is backing the UK as a base for automotive manufacturing."
Copyright Press Association 2012