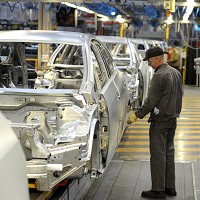 Britain's car factories rolled 1.1% more units off the production lines in the first half of the year than they did in the same period of 2012, industry figures reveal.
According to Society of Motor Manufacturers and Traders (SMMT) data a total of 764,390 cars were made in the six-month period, with growth up 4.6% in the second quarter of the year and 10.4% in the month of June.
Four out of five cars built in the UK are exported, but higher output for the home market, up 24.4%, had boosted volumes.
SMMT interim chief executive, Mike Baunton, said output in 2012 was above the levels seen before the recession, but it is much stronger in the first half of 2013.
He said the increasing number of British customers looking to buy new British-made cars and arrange car insurance is making up for reduced demand elsewhere in Europe.
If Britain can continue to make innovative, quality cars there is no reason why industry analysts will change their view that output will continue to grow, Mr Baunton said.
Copyright Press Association 2013