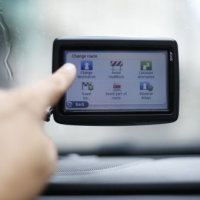 Company vehicle drivers get much more done thanks to in-car technology, a new poll claims.
Drivers calculate that their productivity has gone up by a third because of devices such as smartphone connectivity networks.
These systems head a list of "must-have" work equipment, with 14% of the surveyed 600 company vehicle drivers putting them first.
Sat-navs and cruise control get 10% each in the poll and both are used the most.
The current tech could be just the tip of the iceberg, however. By March 31 in two years' time all newly-built EU motors will need . These will instantly contact emergency services in the event of a crash.
Drivers say the biggest advantage of the current in-car tech is how it helps save time, with over four in 10 (42%) claiming this.
Enabling easier navigation (37%) and saving money (31%) also feature as popular benefits.
Report author Skoda estimates that around one in six employees drive a company vehicle on a typical wage of £27,600.
This means that every worker is in effect adding an average 33% of that annual pay-packet (£9,200) to the UK economy.
Skoda fleet head Henry Williams says that the poll shows that in-car tech is helping to save the nation's businesses time and money.
Copyright Press Association 2016. Motoring News articles do not reflect the RAC's views unless clearly stated.