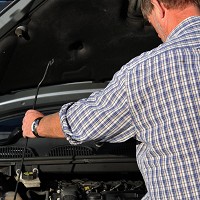 Need your car repaired? Expect to pay record-high labour charges, as garage hourly rates for labour have reached an average of £83, the latest annual Labour Rates Survey by Warranty Direct finds.
At a time when the Office of Fair Trading is looking into the fuel market, where near-record petrol prices are the order of the day, Warranty Direct says the average labour rate rose 3% to a record high of £82.86, up from £80.44 in 2011 and over 10% higher than 2010. The survey examined a total of 4,250 workshops, both franchised and independent.
The range of hourly labour costs across the UK goes from as little as £36.60 per hour up to as high as £201.60, paid by those in Hertfordshire.
In its survey of 50,000 live car insurance policies, Warrant Direct found that the most dramatic rise in labour costs occurred at independent workshops, which in 2011 charged an average of £60.68 per hour, and in 2012 charge £64.58, a 6.44% increase.
Getting a car repaired in Surrey is the most expensive as the average mechanic will charge you £98.27 per hour. Motorists in Powys, Wales, pay the lowest average hourly rate of £58.46, which is nearly half the price in Surrey.
Some of the largest price increases were seen in Cornwall and County Durham, which went up 12.96% and 11.97% respectively.
Meanwhile, East Yorkshire and Pembrokeshire drivers benefited from the largest drops in hourly rates, seeing annual falls of 14.68% and 14.36% respectively.
Copyright © Press Association 2012