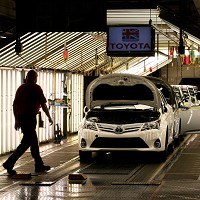 A collaboration between the SMMT and Foyer Federation is to give young people who know what it is like to be homeless a taste of working in the motor manufacturing industry.
Ford, Toyota, MINI Plant Swindon, Unipart and Covpress are all taking part in the Working Assets scheme that will see young people from Foyers experience factory visits and team-building exercises, while receiving CV workshops and advice on starting work in the automotive industry.
The UK car industry is going from strength to strength and it is thought that it will need thousands more workers before the end of the decade.
It needs to find youngsters who are keen to work in car production and Working Assets is seen as a way to inspire young people to consider careers in the industry.
SMMT chief executive Mike Hawes said the UK automotive manufacturing sector employs around 700,000 people and recent investment is set to lift the workforce even higher.
Copyright Press Association 2014