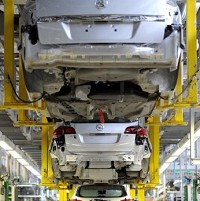 Despite the Jubilee double bank holiday putting an abrupt halt on car production, figures for the first six months of 2012 are showing a 14.1% increase in total output.
Official figures from the Society of Motor Manufacturers and Traders (SMMT) showed that a total of 119,193 cars were manufactured in the UK in June 2012, which is a 0.7% reduction on the same period in 2011. However, for the January to June period total production shows an upwards trend with 756,116 cars being produced.
SMMT chief executive Paul Everitt supported the figures with the comments: "Despite dipping in June, car production performed strongly during the first half of 2012.
"The £5.8 billion investment committed to the UK in the last two years provides long-term growth opportunities, but weakness in European demand may make the next few months a little bumpy."
It is possible to study abreakdown of the figures and look at individual categories, and this tells us that commercial vehicles, which showed a 19.7% drop in June 2012 also has an 8.7% reduction for the half-yearly figures.
Conversely, engine production in June 2012 fell by 15.1% compared to 2011, with 203,188 produced, but for the January to June period production figures are up by 0.5%, at 1,336,279 in comparison to the same period in 2011.
Copyright Press Association 2012