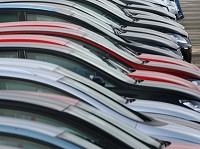 A new report reveals that 24 insolvencies were recorded among UK car dealers this year to the end of August, double the number during the same period last year.
Consultants and accountants Ernst & Young predicted that dealerships will continue to face uncertainties long after the country surfaces from the recession.
Their report said falling car sales, heavy discounts on new vehicles and lower levels of servicing work have together had a "catastrophic effect" on Britain's automotive retail market.
Eric Wallbank, UK head of Ernst & Young's automotive team, said: "A cocktail of falling sales and diminishing profit margins has led to unprecedented levels of dealer closures.
"But the 1 extent of distress facing dealer groups is being masked by the closure of many loss-making sites which would have not been reflected in the overall insolvency numbers."
And the conditions would get worse, the firm predicted.
Even though the Government's successful car scrappage scheme is keeping the industry afloat through the worst of the economic crisis, a return to growth in the gross domestic product (GDP) is likely to be the best indication of a recovery in new car registrations.
Copyright © Press Association 2009