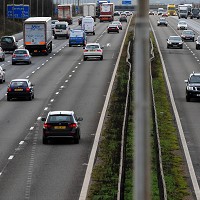 The Government has announced that it will trial a new data-sharing scheme aimed at ensuring more foreign vehicles are taxed in the UK.
The scheme will see HM Revenue and Customs (HMRC), the DVLA and six police forces across the country share information to help identify those cars that have been driven on British roads for more than half a year.
This will allow the authorities to ensure that drivers of these cars no longer evade paying Vehicle Excise Duty, and it also means they can be pursued if they have committed a motoring offence.
Motorists will also have to ensure their foreign cars have a current MoT certificate, and failure to comply with regulations will lead to the car being impounded and subject to a £200 release fee.
The move has been welcomed by the RAC, which has been calling for the creation of a non-UK vehicle database for months.
Details of all foreign cars which enter and leave the UK are already being captured by HMRC, but the organisation has so far not been sharing this information with the DVLA or police.
The scheme comes amid concerns that up to £60 million in revenue is lost every year because hundreds of thousands of motorists fail to tax their foreign cars after the initial tax-free six-month period is over.
Pete Williams, RAC head of external affairs, said: "The RAC has been very vocal in calling for a solution to this problem so this announcement is good news for all law-abiding British motorists who have rightly felt aggrieved that foreign-registered vehicles are allowed to get away with not paying Vehicle Excise Duty after being in the country for more than six months.
"Now a solution is to be trialled, we will be on the way to discovering how many foreign vehicles we actually have in the UK.
"This will ultimately mean that the Treasury will gain more tax revenue which we can only hope will be put towards improving the desperate state of our roads - a constant source of frustration to motorists.
"Just as we don't know the true number of foreign cars in the UK that should be paying Vehicle Excise Duty - 'car tax' - we also don't know how many vehicles require MoTs to make sure they are roadworthy and can be insured, and similarly, how many need to be traced to pay speeding fines generated by safety cameras.
"The trial will naturally help to make our roads safer as it should reduce the number of foreign vehicles being driven in the UK without MoTs in an unroadworthy condition."
The scheme will be trialled from November 3 until February.
Copyright Press Association 2014