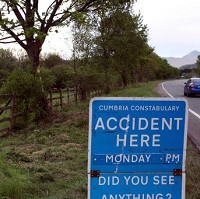 A fear that their children will be involved in a road accident is the greatest among a new survey of parental concerns.
The Association of British Insurers' (ABI) poll of 498 parents with offspring aged 16-25 reveals that 62% share this worry.
For most parents the thought is more anxiety-inducing than their children's joblessness (59%); failure to make the most of their potential (33%); drug taking (31%) or smoking (27%).
It is well documented that the 16-25 year-old age group is more prone to involvement in driving accidents. T he ABI's James Dalton says car crashes are also the main cause of accidental death for this group, so such concern is justified.
He says the poll's results underline exactly why ministers need to urgently draft and implement new laws to make inroads into the casualty rate. Such action has so far been repeatedly postponed, he says.
The association is calling for a raft of new steps to reduce accidents among young motorists. These include a minimum 12-month learning period.
A limit to the number of passengers allowed in a car with new young drivers for six months after passing their test is also among the recommendations.
Copyright Press Association 2014