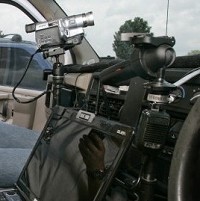 UK motorists will be increasingly able to use video evidence to help their car insurance claim.
The policy has hitherto been vague on use of dash cams . But dash cam maker Nextbase says it has been given 100% approval from Britain-based car insurance companies that such footage will be considered permissible in liability cases.
Mark Godfrey, director of RAC Insurance, said: "Despite being on the market for a while now, the benefits of dashboard cameras (or simply 'dash cams') are only beginning to become obvious now that more drivers are using them, and more insurers accepting footage when reviewing claims.
"Motorists are starting to see insurance companies offering discounts to those policyholders that have a fully-functioning dash cam installed in their vehicle - the RAC is working with its partners to implement such an incentive later in 2015."
The cameras, positioned on a vehicle's windscreen, are tiny forward-facing video cameras, which cost upwards of £50 and can be self-installed.
Last year it was reported that motorists who install dash cams might be entitled to insurance premium markdowns of as much as 12.5%.
The gadgets are proving increasingly popular with drivers. GfK reported that sales have mushroomed by 918 per cent over the past 12 months.
Nextbase claims dash cam evidence can render claims procedures "more efficient" because videos are more dependable witnesses than humans. This, it said, also lowers the claims process costs for insurance companies involved.
Director Richard Browning says n ot only could dash cams put a stop to 'cash-for-crash' deceptions, they could also give insurance businesses the chance to make big savings.
Copyright Press Association 2015