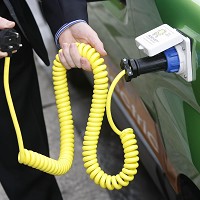 Electric car drivers in the East of England could find more charging points available in their local area thanks to a new scheme.
Source London and Source East have joined forces to put electric charging points within 25 miles of every business and resident in the region over the next 12 months.
Source London has 810 charge points throughout the capital which can be used by its members for free. It plans to increase this number to 1,300 next year.
Meanwhile, Source East already has 132 charge points across the East of England and wants to increase this figure to 800.
The new venture means that members of either scheme will be able to use any of their charge points, with at least one charge point within 25 miles.
The groups hope that their new initiative will encourage more people to buy electric cars by reducing the risk of running out of charge.
Source London's TfL director Nick Fairholme said the city was "leading the way" in the race to provide charging points.
He added: "The growth in the electric vehicle market is very encouraging and by building the infrastructure to support these vehicles, we expect them to become even more accessible."
Copyright Press Association 2012