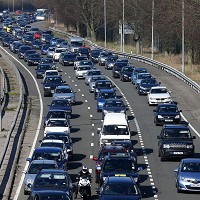 With spring now upon us and warmer weather just around the corner, Britain's top advanced driver the IAM's Peter Rodger is offering up some tips on how to keep cars in top shape over the summer:
- Keep your car topped up with anti-freeze as it contains corrosion inhibitors. Going without anti-freeze could damage your engine and lead to a hefty garage bill.Breakdown cover provides excellent peace of mind but no driver ever wants to use it.
- Does your car look like it needs a bit of a spring clean? Then give it a good wash. Try to get in all those hard-to-reach nooks and crannies because salt is corrosive and will create rust if it's left on the bodywork. If you can, run it in to a car wash that specialises in under-car cleaning so you can be assured of a thorough job.
- If you have hayfever, consider changing your vehicle's pollen filter every year. Regular maintenance of your car's air conditioning system will also help to relieve your symptoms.
- Making sure your air-con is frequently serviced will keep your car smelling fresh. A stale aroma when you switch on the heating is often a tell-tale sign of a build-up of mould in your car's condenser.
- Remember to keep your windscreen washer fluid topped up as there will be plenty of flies about in the summer. Getting into the habit of giving your windscreen and headlights a wash whenever you fill up is important as windscreen wipers won't eliminate all the fly debris.
- Keep your wiper blades clean and change them regularly as old ones are noisy and can leave marks and do damage to your windscreen.
- Check your wheel and tyre alignment as they might have gone askew over the winter. Misaligned tyres wear out more quickly.
Copyright Press Association 2014