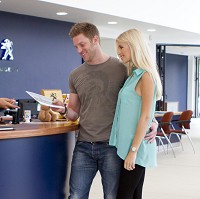 Both men and women think they wear the trousers when it comes to buying a car , research suggests.
Only 1.65% of men would say the car they bought was their female partner's choice, according to a study conducted by Mindlab, while 35.7% of women thought it was entirely their decision.
Just 5.25% of women thought it was their man's decision, yet 63% of men believe it was completely their choice - highlighting huge disparity as to exactly who is the chief decision-maker on the forecourt.
When asked whether it was a joint decision, on the other hand, 35% of men thought that choosing a car was a mutual agreement, compared to 59% of women who felt the same, so it's clearly anything but a two-way street.
Sophisticated techniques were used to uncover subconscious feelings and emotions towards car-buying.
Speed was found to be an important factor to men at a subconscious level when on the hunt for a new motor, while design - both the interior and exterior - is one of the main things that women look for.
Dr David Lewis, author of The Brain Sell and Managing Director at Mindlab explained: "Even when making a costly purchase like a car, most of our buying decisions are unconscious and there are a number of factors that come into play."
Copyright Press Association 2014