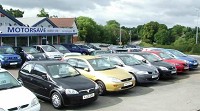 Research shows motorists looking to buy a used car are at increasing risk of getting their hands on a cloned vehicle.
According to new research from HPI, criminals are finding more ways to pass off stolen vehicles as legitimate by using fake or stolen V5 documents and concealing or modifying Vehicle Identification Numbers.
The group is advising buyers to check the provenance of the car, and make sure it is viewed at the registered keeper's address, which will be shown on the V5/logbook.
If sellers are asking for less than 70% of the market price for a vehicle, then motorists are being told to be on their guard as it may well be too good to be 1.
Nick Lindsay, director of HPI, said: "It is almost impossible to sell a stolen vehicle without changing its identity, which has led to a rise in car cloning.
"Whether used car buyers are unaware of the risks or choose to ignore them because their heart tells them it is a dream buy, they are leaving the door wide open for cloners."
Copyright © Press Association 2009