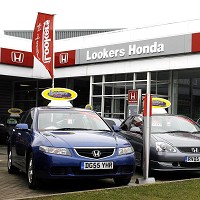 National motor dealership Lookers has reported an 11% rise in the number of used and new cars purchased by private buyers during the first six months of 2012.
The private new car market increased by 8.7% with brands such as Audi and Land Rover amongst the most popular with motorists, whose next step will be to protect their new vehicle withbreakdown cover .
The Manchester-based firm enjoyed a 10% increase in gross profits in its used car division. This increase was helped by using social media tools like Facebook, which prompted a 40% increase in enquiries.
The grim economic situation did have an negative influence in the parts division though - with sales down slightly as car owners put off repairs.
According to chief executive Peter Jones, since the financial crisis the new car market is still down by 20%.
Jones said: "There are a lot of great deals from manufacturers about at the moment and now is a great time to buy a new car."
Copyright © Press Association 2012