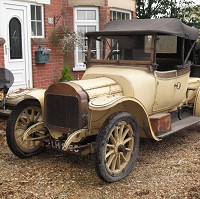 An array of classic cars in need of a little TLC are sure to tempt people searching for a new project when they are auctioned off on Saturday.
A 1909 Leon Bollee is one of the more outstanding motors up for grabs at the Anglia Car Auctions Classic event in the north Norfolk town of Kings Lynn.
It was made by the French inventor and engineer of the same name whose cars gained a reputation of quality in France.
It is solid and turns freely despite being stored away for more than four decades and comes with a £18,000 to £20,000 estimate.
A 1978 Alfasud raced by former British Touring Car champion Steve Soper is one of several Alfa Romeos going under the hammer, as well as a 1988 Spider that could be snapped up for as little as £500.
A version of one of the first cars made by BMW after the Second World War is also up for auction. The 1955 BMW 501 is particularly rare and much sought-after by collectors who often take out classiccar insurance to protect their investments.
Saab launched its 99 Turbo in 1978 and a version from that year is also part of the sale. It has been dry-stored since the mid-1980s. Also among the sale list of around 150 classic vehicles are a 1949 Double Decker Bus, a 1981 Austin Allegro and a 1933 Morris Major.
Copyright Press Association 2014