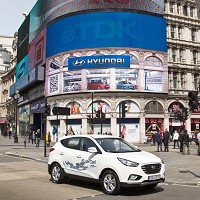 Hyundai is to supply five of its ix35 Fuel Cell cars to kick-start a project to boost the use and infrastructure of hydrogen transport across London.
The Korean car manufacturer is supplying the London Hydrogen Network Expansion (LNHE) project and joins other companies involved in fuel cell technology to roll out a hydrogen network in the capital and the south east of England.
LHNE is supported by the Government and the Technology Strategy Board and designed to promote business use of hydrogen-fuelled vehicles and set up an infrastructure for refuelling so there is little chance of having to use breakdown cover due to lack of hydrogen.
The vehicles would be leased to public and private fleets and the five Hyundai ix35 Fuel Cell models will be among the first 1,000 units built in the next two years on the same Korean production line as the Tucson.
The ix35 Fuel Cell cars are similar in almost every respect to regular ix35s. They can reach a top speed of 100mph, go from 0-62mph in 12.5 seconds and drive around 370 miles on one fill up. The main difference is that the Fuel Cell versions produce zero emissions, as the only substance that comes out of the tailpipe is water. They can be refilled in less than three minutes too.
Copyright Press Association 2013