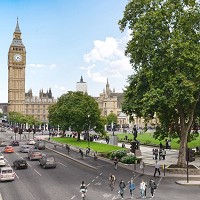 Londoners will soon be able to get around large parts of the city free from busy roads, thanks to the unveiling of two urban cycleway routes.
The routes - running for more than three miles from Elephant & Castle in south London to King's Cross in north London; and for 18 miles from east London's Barking to Acton in west London - are expected to open in March 2016.
Following detailed public consultation, work could start as early as next year, Mayor Boris Johnson announced as part of his £913 million biking plan.
As well as a segregated cycle track on the Westway flyover, routes will also be created through Tower Hill, Blackfriars, Parliament Square and Lancaster Gate.
Mr Johnson points out that bikes already make up almost a quarter of all rush-hour traffic in the capital.
With hundreds of thousands of journeys made on two wheels every day h e said the plans will not just be of benefit to cyclists, stressing that by getting more people on their bikes, pressures on the roads, buses and rail networks will be greatly eased.
Copyright Press Association 2014