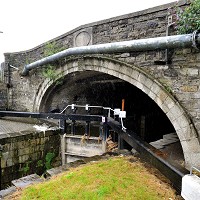 Surveillance cameras may be installed on canal bridges across the UK to catch careless drivers who are causing nearly £1 million in damage each year.
The Canal & River Trust, the charity entrusted with the care of the UK's waterways, including 2,800 canal bridges, said the majority of collisions were not reported - leaving the trust unable to claim against thedriver's car insurance .
The trust's first CCTV camera has been installed on the Caunsall Bridge over the Staffordshire & Worcestershire Canal near Kidderminster.
The bridge has been hit by clumsy motorists six times in the past year-and-a-half, with the repair bill now running to £30,000.
Nigel Crowe, the Canal & River Trust's head of heritage, said: "Whenever you go over a hump-back bridge in Britain you are likely to be going over a canal.
"These bridges are unique, many are listed as being of special architectural or historical significance, and when damaged they need to be painstakingly repaired at considerable cost."
The trust said it would install sensors at other hump-back bridges that have experienced driver damage if the camera trial was a success.
Copyright Press Association 2012