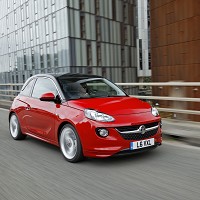 Vauxhall is offering £500 worth of free fuel with certain new cars this weekend, including its ADAM, Insignia and Cascada models.
Buyers who pick up an ADAM hatchback between Friday and Monday could be doing 4,600 miles without spending a penny on fuel and the deal is available alongside Vauxhall's other offers, meaning new owners can save even more on a new car or commercial vehicle.
Customers buying new cars during the event weekend can enjoy 20% off Vauxhall's official range of accessories and benefit from its 0 per cent APR Flexible Finance scheme.
A year's free car insurance for drivers between the ages of 21 and 75 is available with some Corsa and ADAM models and all new Vauxhalls feature a warranty that could last the lifetime of the vehicle, up to 100,000 miles.
Vauxhall's customers can have all of this during the special weekend event and know they will get the best aftercare and servicing around.
Copyright Press Association 2013