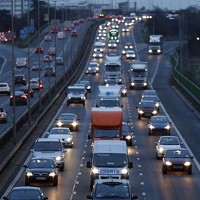 Drivers on the M4 will be placed in danger if plans to turn parts into a so-called "smart motorway" go ahead, campaigners claim.
They protested outside Maidenhead's town hall against Highways England's proposals for junctions 3 to 12 (London to Reading) of the motorway.
The objectors say the project will result in extra pollution and traffic, while also compromising safety.
The Reading branch of Friends of the Earth (FoE) and Campaign for Better Transport (CBT) are giving evidence in favour against the plans on safety and environmental grounds.
This six-month consultation process is necessary before the national road authority can press ahead with the scheme.
Drivers who have to call on their breakdown cover if their car grinds to a halt will make the M4 stretch more congested and dangerous, CBT claims.
Its roads campaigner, Sian Berry is very concerned about what will happen in this event as motorists will no longer be able to stop on the motorway's hard shoulder.
She says the estimated "astronomical" £600 million to £900 million cost of replacing the stretch's 11 bridges would be better allocated improving public transport or maintaining roads in the area.
Ms Berry says the money would be particularly useful in funding the local bus service, which faces the prospect of "huge" cuts.
FoE's air pollution spokeswoman Jenny Bates says the smart motorway goes against a Government supposedly trying to quickly hit legal air pollution targets to comply with a Supreme Court ruling.
Ms Bates says the additional vehicles a smart M4 would bring will only increase the problem of air pollutants, which she claims are behind five-figure sums of premature deaths every year in Britain.
She has urged ministers to put this nationwide general health crisis ahead of attempting to shoe-horn even more vehicles onto the UK's motorway network.
The call comes ahead of crucial international climate change talks before the year is out.
Copyright Press Association 2015