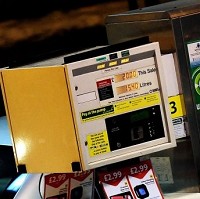 Campaigners have called for a full investigation into the "dysfunctional" fuel market in the UK.
The Office of Fair Trading (OFT) is in the process of carrying out a review into the petrol market, looking at whether reductions in crude oil are being passed on to the customer, but some groups have called for a full investigation.
Peter Carroll, founder of FairFuelUK, said: "There is a suspicion that some people are making a lot of money speculating in the petrol and diesel market that is essential for every family and business in the country. This needs to be fully examined and these suspicions addressed."
He added that there should be a "landmark investigation into why the UK road fuel market is so dysfunctional".
Quentin Willson, national spokesman for the organisation, added: "This market has been hiding itself in the long grass for far too long and consumers have a right to transparency, honesty and fair pricing."
The group called for information on wholesale prices and why it takes falls in the price of crude oil to appear that the pumps, why there is such a difference in price between diesel and petrol and why there are regional variations in price.
He said: "It's mischievous that this market has stayed so resistant to scrutiny for so long."
Copyright Press Association 2013