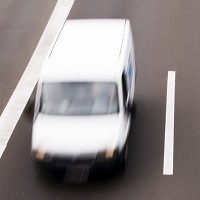 Van operators are being urged to take better care of their vehicles.
The call to arms by the Society of Motor Manufacturers and Traders (SMMT) follows research that reveals two thirds of van drivers are travelling in vehicles that have at least one serious mechanical defect.
It is publishing easy-to-follow safety guidance to help operators keep their vans in good working order.
The RAC reminds businesses which rely on vehicles that they are just as important as their IT systems and other tools of the trade.
Defects
Some 63% of the 10,800 vans stopped by the Driver and Vehicle Standards Agency (DVSA) at the roadside each year have a serious mechanical defect - while around 50% pose a road safety risk and are taken off the road.
This comes at a significant cost to owners, equating to around £4,000 per day.
Figures also show that 50% of vans fail their annual MOT test first time, compared with 22% of heavy goods vehicles, leaving owners further out of pocket and having a detrimental impact on their busy schedules. Van drivers know the importance of keeping their vehicles on the road - and van insurance is integral to this.
RAC Business spokesman Simon Peevers said: "It almost goes without saying that vehicle maintenance is essential for any size of fleet, not only to keep a business on the move, but also to protect drivers from the danger posed by serious mechanical faults.
"There is now the technology available through systems such as telematics to monitor vehicles and identify when things are about to go wrong before they develop into serious faults, saving a business time and money.
"We would urge all businesses that rely on their vehicles to ensure they are fit for purpose as they are vital to the running of that business in the same way staff, IT systems or any other tools of the trade are. "
Safety improvements
The SMMT wants to see a step change in safety improvements so that van owners can meet self-regulatory requirements and avoid the risk of costly fines, not to mention further legislation in the future.
It has been working with the DVSA and other industry stakeholders to ensure goods vehicles weighing less than 3.5 tonnes remain exempt from the operator licensing regime that applies to heavier vehicles.
Chief executive Mike Hawes claims regular servicing is essential for the 3.2 million vans on roads in the UK.
He says the huge distances that the vehicles cover makes daily wear and tear part and parcel of the course.
The new campaign to promote maintenance will help businesses take the necessary steps to ensure their vehicles are safe, protecting their drivers and other road users without the need for additional legislation.
Copyright Press Association 2015
https://www.gov.uk/government/organisations/driver-and-vehicle-standards-agency (Driver and Vehicle Standards Agency)
https://racgaragecompare.co.uk/ (regular servicing)