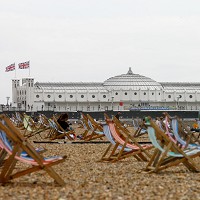 Driving enthusiasts have launched a campaign to save what is thought to be the UK's longest-running motorsport event.
The Brighton Speed Trials have been an annual event in the town since 1905, with top cars and motorcycles being paraded and then raced over a quarter-of-a-mile route along the seafront.
But fears have been raised that this year's event will be cancelled after it emerged that Brighton and Hove City Council, which is run by the Green Party, is yet to approve an application to host the spectacle.
Over 7,800 supporters have signed a petition opened by Brighton and Hove Motor Club, which runs the event, demanding it is preserved. A decision is anticipated on January 23.
Motor club spokeswoman Ruth Reynolds said: "It would be disastrous for our community, for the heritage of motorsport and for local traders if it didn't go ahead.
"The council's official line has been that the event doesn't fit in with modern Brighton, but we would say that more than 7,000 people beg to differ."
Copyright Press Association 2014