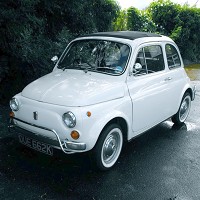 One of Prime Minister David Cameron's old cars is going up for sale at auction next month at a classic motoring exhibition in Birmingham.
The 1971 Fiat 500 L that Mr Cameron bought as a surprise birthday present for his wife Samantha in 1998 is expected to fetch between £8,000 and £12,000 when it goes under the hammer at the Footman James Classic Motor Show at the NEC on 17 November.
The car only did around 1,000 miles in the 10 years it was owned by the Camerons and has only clocked up 13,000 miles in total. It has now been restored and the managing director of Silverstone Auctions, Nick Whale, thinks it's a great lot.
"It's not every day that you get the chance to bid for a car that was once owned by a global figure. Our auction, which also contains other classics, modern supercars and competition cars, really does offer the chance to own a slice of automotive history," he said.
"No matter what your political persuasion, this is one cool car and we are delighted to be able to offer it for auction at our sale."
Copyright Press Association 2012