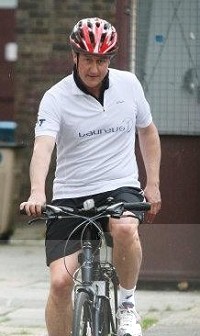 Environmentalists have hit out at Conservative Party leader David Cameron after he travelled to a meeting about eco-friendly fuels in a helicopter.
Mr Cameron flew from London to Norwich to discuss turning crop waste into fuels with experts from the University of East Anglia as part of the Tory party's campaign to win Thursday's Norwich North by-election.
The Green Party criticised Mr Cameron's transport method and said he should have chosen the environmentally-friendly option of travelling by train.
"How ironic that Mr Cameron, who claims to be committed to working to reduce climate change, should travel from London to Norwich in a helicopter instead of taking the opportunity to reduce his carbon footprint and use the train," said the Green Party's by-election candidate Rupert Read.
"This kind of behaviour undermines any Green credentials the Conservative Party have."
A Green Party spokesman added: "The journey from London to Norwich takes about an hour and a half and the train service is good.
"The most environmentally friendly way of travelling from London to Norwich is plainly by train - the least environmentally friendly way is travelling by helicopter. It's doubly ironic that he's travelling to a university to discuss the development of environmentally friendly fuels."
Copyright © Press Association 2009