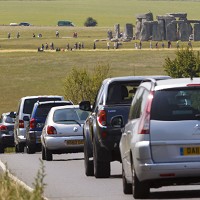 A cash injection of £15 billion is to help bring England's roads back up to speed.
It is part of Prime Minister David Cameron's commitment to ease the burden on motorists nationwide by the end of the decade.
His 'roads revolution' will create extra lane miles on motorways and trunk roads in a bid to ease congestion and speed up journey times, as well as fixing troublesome potholes.
More than 100 of the most notorious problem hotspots on England's roads will benefit from the lump sum.
Mr Cameron's proposals are expected to be announced and outlined in next month's Autumn Statement.
He describes them as the biggest, boldest and "most far-reaching" upgrade to the country's roads in a generation.
RAC Foundation director Professor Stephen Glaister said: "The Chancellor collects more than £30 billion in road fuel duty and Vehicle Excise Duty (car tax) alone but spends just a quarter of this on the road network. If a larger share of this income will now be used to upgrade our highways, which are a vital national asset, then that is welcome.
"This announcement has to be seen against the rapidly-rising population which will cause only more congestion on the roads unless there is significant investment in removing the pinch points."
Copyright Press Association 2014