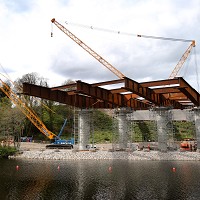 The UK has just 54 miles of motorway more than it did when David Cameron first took the role of Prime Minister, new figures show.
That's the distance the motorway network has increased since 2010, according to the Department for Transport.
Last year the motorway network grew by three miles, while 22 more miles of A-roads were laid. The entire road network totalled 245,827 miles by the end of 2014, up by 99 on the previous year.
Back in 2010, the UK had 244,978 miles of road. Only 1% of these miles were in motorways (2,211).
RAC spokesman Simon Williams said: "While the UK's motorway network may have only expanded marginally during the course of the last parliament, the big change that motorists will have seen is the increasing number of ' smart motorways ' - stretches of road where the hard shoulder becomes a lane open for traffic, either permanently or just when traffic is heavy.
"The ongoing expansion of these, plus other improvements that form part of the Road Investment Strategy in England, should have the effect of increasing capacity on major routes and reducing congestion for many drivers in the years ahead - but will require close monitoring.
"The RAC is working closely with both the Office of Rail and Road and Transport Focus to represent our members' interest in this regard."
Sir John Major, the previous Conservative PM, led the country for seven years - in which time the total length of the motorway system increased by 191 miles.
As for Labour, the motorways hardly grew at all during the three years when Gordon Brown was PM.
While Labour's Harold Wilson and Conservative Edward Heath were in Number 10. the motorway network increased by 537 and 504 miles respectively.
Wilson's two periods in power lasted eight years, while Heath's one parliament lasted four - meaning more motorway was laid while Heath was PM than during the tenure of any other leader.
Copyright Press Association 2015